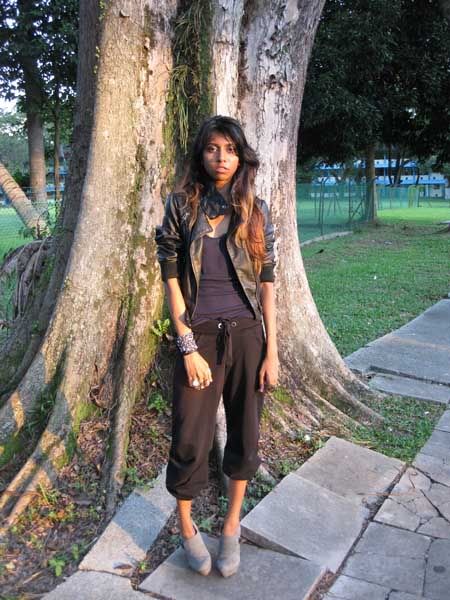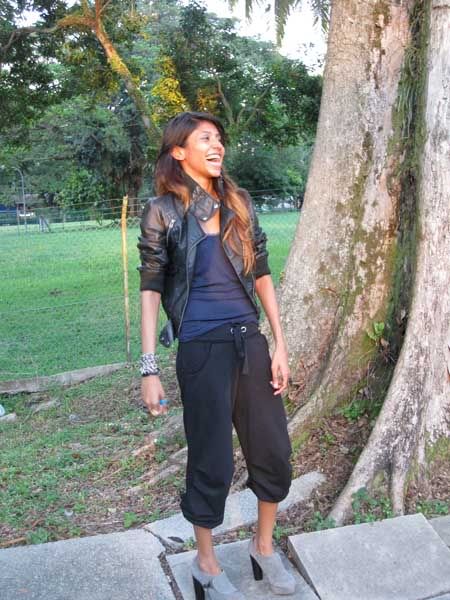 top:diy backless top from topshop,

faux leather jacket: topshop

, jersey pants: topshop,

bracelet: chanel inspired chain DIY

, vivienne westwood armour ring replica,

random sensless non matching rings, does it matter??
I like putting random titles which has nothing to do with the post. why i don't know.
Recently i have been in dilemma on how far i should go in writing down about my personal life in " Browniebara" honestly i still don't know.
The truth is i am one grouchy old hag naggy muthafucker.. who loves to whine whine and whine. complain and likes to fuck the tree because it is not providing me with enough shade. I'm not saying that i have not been myself in my blog. it is my blog anyway. it is just that i am putting my whining to the very minimal and and write about things that make me happy. like fashion. i didn't have a clue that i could get such a self satisfaction feeling the materials while i am going from shops to shops. Its even better to know that my relationship with my boy is so strong due to his good taste in fashion and his awesome critics and so many other things ofocurse.
i am glad i started this blog. most importantly, i would like to inspire. ok maybe not inspire. there is nothing inspiring about me. but i hope to give you guys ideas to style-lice yourself.
remember it doesn't fucking matter even if it is fucking hot in singapore, if you have the right deodorant slide into any leather jacket.
xoxo