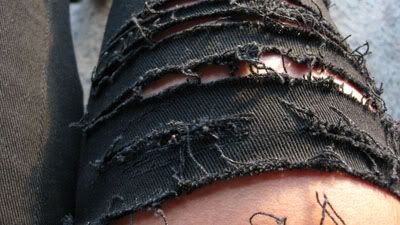 Ripped jeans & Ripped Boyfriends T-shirt and what else?!!
i'm
on the rampage of ripping and tearing my clothes to bits and pieces. My sis bought a sewing machine which she has not yet used. It is tempting me so much to do something to my unworn clothes but I have a little fear that it will go to waste.
I was so excited to wear my finished ripped tank top taught by dear blogger "
childhoodflames"
But I dropped it on my way to work. :(
boots- Lee
necklace- forever 21, T
iffany
& co and
Bysi